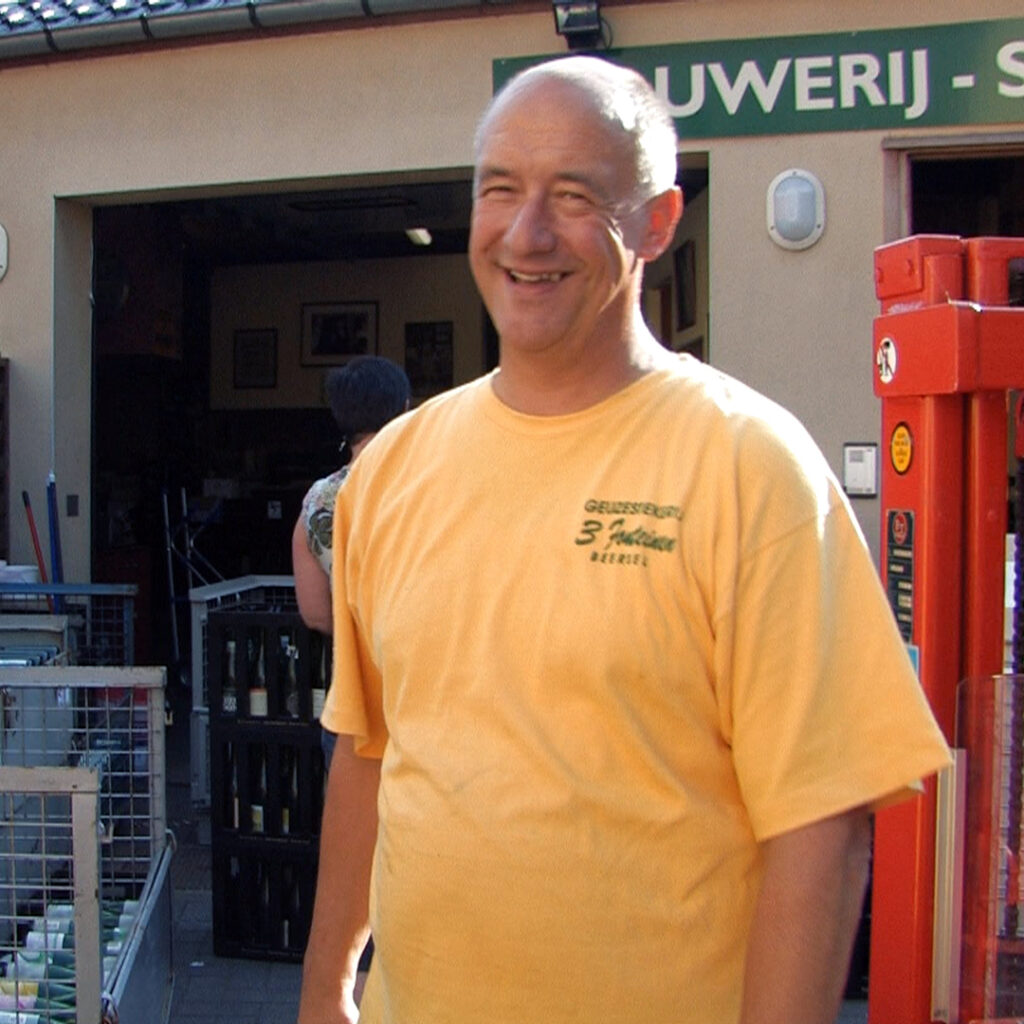 Remembering Armand Debelder –
On March 6, 2022, Armand Debelder from Brouwerij Drie Fonteinen in Beersel, Belgium passed away. Most people won't recognize that name, but to those in the international beer community, this quiet and humble man was a giant. Please humor me, while I tell a few stories about my friend.
I first met Armand, sixteen years to the day before his death. I ran into him while at the Zythos Bier Festival, held at that time in Sint Niklaas, Belgium. It had already been arranged that I was to visit him at his brewery the following day, so I could interview him for a TV pilot on beer that I was producing. Early the next morning, he welcomed me to the brewery and the family café next door. The day was spent discussing and drinking his traditional lambic. While I already loved the beer, Armand's easy demeanor, knowledge, and passion for what he did quickly made me a fan of the man.
As I was preparing to leave, a group of American brewers arrived – they became known as the Brett Pack (Adam Avery – Avery Brewing, Rob Tod – Allagash Brewing, Sam Calagione – Dogfish Head, Tomme Arthur – Lost Abbey, and Vinnie Cilurzo – Russian River). I was invited to stay for dinner, and they would give me a ride back to Brussels. We were joined by Frank Boon and more lambic knowledge was bestowed on us. We said our goodbyes and got on the coach back to the city. Adam decided he wanted to continue his lambic evening and popped a magnum of gueuze, which proceeded to gush. He began to rush off the bus and instinctively put his mouth over the bottle. For the record, there is a diagram on the side of these bottles, saying that you shouldn't do that. I'll let Tomme Arthur continue the story:
"The look on Armand's face was part abject horror-and maybe even a smug grin that he could understand the level of elevated refreshment we were feeling and this is what caused the euphoria we were experiencing." It was a day I will always remember.
On another trip to visit Armand in Beersel, I literally went to Drie Fonteinen directly from the airport. The day was spent with me, the dutiful student, listening to the master. Late in the day, we were discussing how long bottled lambics could actually age for, when we were joined by American importer Don Feinberg and my ride back to Brussels, Yvan DeBaets from Brasserie De La Senne. Inspired by the conversation and new guests, Armand slipped into a dark corner of the cellar and came out with the nastiest and dirtiest bottle I had ever seen. He gently cleaned it off, popped it, and carefully served it to us. The contents of the bottle was a gueuze bottled in 1972 (when I was one year old). If memory serves, it was from the year that Armand official began working at 3F full time. For those interested, the beer was lovely.
Over the years, Armand and I had many conversations and wonderful times. I will always be proud of the fact that a few of us were able to convince him to come to Philadelphia to talk about Drie Fonteinen – which was no small feat considering his dislike of flying. It was amazing to see how moved he was by the fact that this large group of American beer drinkers were clamoring to meet him and attend a dinner at Monks Cafe. I would go on to have the privilege to represent him and 3F, during my decade with Shelton Brothers.
Drie Fonteinen had overcome adversity – including changing tastes that left traditional lambic as something that was unwanted and the infamous "catastrophe," which left much of the brewery's stock destroyed. While stressful, I believe something else weighed heavier up him, the future. He regretted not having anybody to pass Drie Fonteinen on to, it was a common thread in many of our conversations. So, I was so happy for him when I heard that he had found people to continue his legacy.
I could continue telling stories about Armand, but I feel like he wouldn't approve. Armand, thank you for keeping a tradition alive, thank you for patience, knowledge, and kindness. You will be missed.
– KB